MADAGASCAR ISLAND
WORLD MAP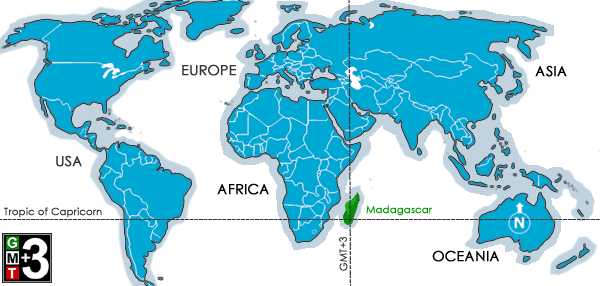 MADAGASCAR GEOGRAPHY
At 592,800 square kilometers (228,900 sq mi), Madagascar is the world's 47th-largest country and the fourth-largest island. The country is situated between latitudes 12°S and 26°S, and longitudes 43°E and 51°E. The prehistoric breakup of the Gondwana supercontinent separated the Madagascar-Antarctica-India landmass from the Africa-South America landmass around 135 million years ago. Madagascar later split from India around 88 million years ago, allowing plants and animals on the island to evolve in complete isolation.
Madagascar Island can be divided into three broad geographic zones. These include the highlands which is a plateau region in the center of the island ranging in altitude from 2,500 to 4,500 ft (762 to 1,372 m) above sea level; a narrow and steep escarpment that runs the length of the eastern coast and contains much of the island's remaining tropical rain forest; and a wide dry plain that gently slopes from the western boundaries of the highlands toward the Mozambique Channel. The central highlands, traditionally the homeland of the Merina people (the island's most numerous ethnic group) and location of their historic capital at Antananarivo, is the most densely populated part of the island and is characterized by terraced valleys, rice fields lying between grassy, deforested hills. Here, erosion has exposed the island's red laterite soil, source of the country's sobriquet "The Red Island".
Madagascar's highest peaks arise from three prominent highland massifs: Maromokotra (9,436 ft (2,876 m) in the Tsaratanana Massif is the island's highest point, followed by Bobby's Peak (8,720 ft (2,658 m)) in the Andringitra Massif and Tsiafajavona (8,671 ft (2,643 m)) in the Ankaratra Massif. To the east, the Pangalane Channel is a chain of natural lakes connected by French-built channels just inland from the east coast, running parallel to it for some 370 mi (595 km). The western and southern sides, which lie in the rain shadow of the central highlands, are home of tropical dry forests, thorn forests, deserts and xeric shrublands. Presumably due to relatively lower population densities, Madagascar's dry deciduous rain forest has been better preserved than the eastern rain forests or the original woodlands of the high central plateau. The western coast features many protected harbors, but silting is a major problem caused by sediment from the high levels of inland erosion carried by rivers crossing the vast western plains:
MADAGASCAR 6 POLITICAL REGIONS
1: Antananarivo
The Capital of Madagascar Population: 13 670 507 million (estimate of July 2014)
2: Diego Suarez
The Capital of Antankarana region Population: 1,9 million
3: Fianarantsoa
The Capital of Bestileo region Population: 1,9 million
4: Majunga
The Capital of Sakalava and Vezo regions Population: 1,9 million
5: Tamatave
The Capital of Betsimisaraka region Population: 1,9 million
6: Tuléar
The Capital of Bara, Mahavafy, Antandroy and Vezo Regions Population: 1,9 million?